Clicking on one of the "order" links below will open an e-mail message that can be used to indicate which items you would like to order; you will hear from us shortly with payment instructions.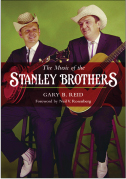 BOOK
The Music of the Stanley Brothers
Gary Reid
$30.00

The Music of the Stanley Brothers by Gary Reid tells the story of Carter and Ralph Stanley's 20 year recording history. The project, 40 years in the making, was published in early 2015 by the University of Illinois Press. Material in the book is presented in chronological order, starting with the duo's very first recordings from 1947 and ending with an account of an album release of their last concert together in 1966.
"Reid's dedication and musical sleuthing are amazing"
Sing Out! magazine
"A must for any Stanley Brothers fan."
Ricky Skaggs
"An important link in bluegrass history. The amount of information is staggering, and this will be the encyclopedia of the Stanley Brothers, the best source of information about their musical legacy."
Country Standard Time
"Say hello to the Boyhood of bluegrass music journalism, a book that has taken Gary Reid some 40 years to piece together... As an all-encompassing guide to their music, this is indispensable."
Mojo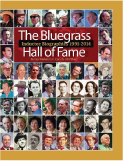 BOOK
The Bluegrass Hall
of Fame Inductee Biographies
Fred Bartenstein and Gary Reid
$40.00

The Bluegrass Hall of Fame Inductee Biographies, by Fred Bartenstein and Gary Reid, features carefully researched and engagingly written profiles of the pioneers of bluegrass music. The book documents not only the facts and career accomplishments of these men and women, but also captures a sense of their personalities and their impact upon fellow musicians and fans. The biographical sketches are accompanied by photographic portraits, many never before published. A brilliant and multicolored bluegrass mosaic emerges in this historical work and is a handsome addition to the libraries of music lovers everywhere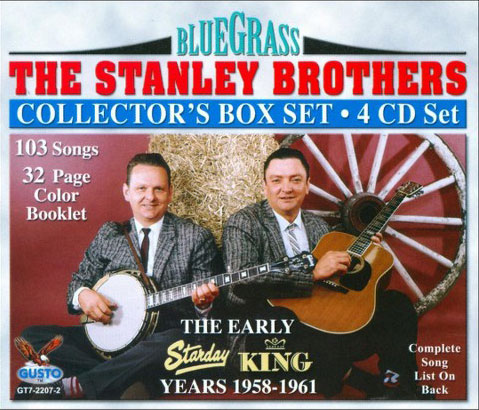 GT72207
The Early Starday/King Years
1958-1961
4CD set/103 songs
$25.00
Disc One
Holiday Pickin'; Gonna Paint The Town; That Happy Night; Christmas Is Near; Love Me Darling, Just Tonight; She's More To Be Pitied; Heaven Seemed So Near; Your Selfish Heart; How Mountain Girls Can Love; The Memory Of Your Smile; Mastertone March; Clinch Mountain Backstep; Midnight Ramble; Train 45; Think Of What You've Done; Keep A Memory; Old Daniel Prayed; He Said If I Be Lifted Up; This Wicked Path Of Sin; Are You Afraid To Die; The White Dove; How Can We Thank Him For What He Has Done; Mother's Footsteps Guide Me On; That Home Far Away; My Lord's Gonna Set Me Free; The Angel Of Death; Wings Of Angels; Suwanee River Hoedown
Disc Two
Choo Choo Comin'; Carolina Mountain Home; Trust Each Other; Beneath The Maple; Highway Of Regret; A Little At A Time; Another Night; Ridin' That Midnight Train; Mountain Dew; Sunny Side Of The Mountain; Tragic Romance; Shenandoah Waltz; Next Sunday, Darling, Is My Birthday; Sweet Thing; Sweeter Than The Flowers; It's Raining Here This Morning; Shackles And Chains; Weeping Willow; Old Rattler; I'm A Man Of Constant Sorrow; My Main Trial Is Yet To Come; Mother Left Me Her Bible; Jacob's Vision; I'll Not Be A Stranger; From The Manger To The Cross
Disc Three
Purple Robe; When Jesus Beckons Me Home; Jordan; Pass Me Not; Lonely Tombs; Over In The Glory Land; How Far To Little Rock; A Few More Seasons; Where We'll Never Die; In Heaven We'll Never Grow Old; Mother No Longer Awaits Me At Home; If I Lose; Little Maggie; God Gave You To Me; Don't Go Out Tonight; The Darkest Hour Is Just Before Dawn; Rank Stranger; Let The Church Roll On; Rock Of Ages; I Saw The Light; What A Friend; Gathering Flowers For The Master's Bouquet; I'm Ready To Go

Disc Four
Let Me Love You One More Time; Little Bennie; Old Love Letters; Daybreak In Dixie; Daybreak In Dixie (overdubbed Version); Wildwood Flower; Let Me Rest; Are You Tired Of Me, Darling; Finger Poppin' Time; Finger Poppin' Time (overdubbed Version); Rank Stranger; Come All Ye Tenderhearted; Lover's Quarrel; The Story Of The Lawson Family; Jenny Lynn; Little Willie; Big Tilda; Wild Bill Jones; You're Still To Blame; I'll Take The Blame; I'll Just Go Away; Steel Guitar Rag; I'd Worship You; Just Dreamin'; The Drunken Driver; Little Joe Handsome Molly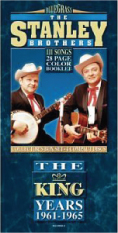 GT72180
The King Years
1961-1965
4CD set/111 songs
$25.00

Disc One
Little Bessie; Mother's Only Sleeping; Old Country Church; Campin' In Canaan Land; Mother Call My Name In Prayer; Working On A Building; Somebody Touched Me; Dying A Sinner's Death; Village Church Yard; A Few More Years; Kneel At The Cross; My Sinful Past; How Mountain Girls Can Love; There Is A Trap; I See Through You; Thy Burdens Are Greater Than Mine; Fast Express; I'm Only Human; String, Eraser And Blotter; Keep Them Cold, Icy Fingers Off Me; Still Trying To Get To Little Rock; Where We'll Never Grow Old; When He Reached Down His Hand For Me; Paul And Silas; Who Will Sing For Me; I'll Fly Away; Drinking From The Fountain; Leaning On The Everlasting Arms; Memories Of Mother
Disc Two
Heaven's Light Is Shining On Me; Let Me Walk, Lord, By Your Side; Harbor Of Love; We Shall Rise; Dear Girl, Can You Forgive; It's Alright If That's The Way You Feel; Drunkard's Dream; I Just Came From Your Wedding; Mama Don't Allow; Chickie's Old Gray Mule; If We Never Meet Again; Hand In Hand With Jesus; My Deceitful Heart; Christmas Is Near; I Don't Want Your Rambling Letters; Just Because; No Letter Today; He Went To Sleep And The Hogs Ate Him; My Brother's Bride; Six Months Ain't Long; Old And In The Way; Hills Of Roan County; Little Birdie; Pig In A Pen; Whiskey; Lips That Lie; Lips That Lie (alternate Version); Little Darling Pal Of Mine; Darling Nellie Gray

Disc Three
Train 45; Lonesome Traveler; Shout Little Lulie; Shamrock; Stoney Creek; Stone Walls And Steel Bars; Standing Room Only (outside Your Heart); Lonesome Night; Pretty Little Miss In The Garden; It Was (late Last Night); Red Wing; When You And I Were Young Maggie; Big Booger; Sourwood Mountain; Ground Hog; Red River Valley; Rang Tang; Snow Deer; Five String Drag; Never Again; Don't Cheat In Our Home Town; Don't Step Over An Old Love; I Just Stood There; Will The Circle Be Unbroken; Jesus Savior, Pilot Me; I Just Dropped By; Oh Death; Shoutin' On The Hills Of Glory; Beautiful Star Of Bethlehem
Disc Four
John Threesixteen; A Crown He Wrote; How Beautiful Heaven Must Be; He's Passing This Way; No Burdens Pass Through; Building On The Rock; Bully Of The Town; Back Up And Push; Careless Love; How Bad Do I Feel; Rollin' On Rubber Wheels; Our Darlin's Gone; How You've Tortured My Mind; I'm Bound To Ride; God's Highway; The End Of The Road; Seek Jesus (He Still May Be Found); He'll Save Your Soul Yet; I Feel Like Going Home; Take Me Home; Are You Ready; Prayer Of A Truck Driver's Son; What A Price; Vision Of The Promised Land; Pray For The Boys; Soldier's Grave

REB1110
Long Journey
Home
$15.00
Long Journey Home; Will You Miss Me; I'll Be True To The One That I Love; No Letter In The Mail Today; Pretty Polly; Wildwood Flower; Two More Years And I'll Be Free; Ramshackle Shack On The Hill; East Virginia Blues; Pig In A Pen; Your Saddle Is Empty Old Pal; Nine Pound Hammer; Cluck Old Hen; Wild And Reckless Hobo; Rabbit In A Log; Mountain Pickin.
Long Journey Home is a classic 1964 recording with Carter & Ralph Stanley and George Shuffler. Many fine old songs.

Theme; Roll In My Sweet Baby's Arms; A Few More Seasons; Love Me Darlin' Just Tonight; Black Mountain Blues; My Lord's Gonna Set Me Free; How Mountain Girls Can Love; Mississippi Sawyer; Jim Walter Commercial #1; Orange Blossom Special; Daniel Prayed; Shenandoah Waltz; How Far To Little Rock; Mother's Footsteps Guide Me On; Pig In A Pen; Cripple Creek; Theme; Theme; Uncle Pen; Little Glass Of Wine; Midnight Ramble; Heaven; Don't Go Out Tonight; Fire On The Mountain; Jim Walter Commercial #2; Carolina Mountain Home; Mother No Longer Awaits Me At Home; He'll Set Your Fields On Fire; Big Tilda; If We Never Meet Again; Whoa Mule; Theme.
On Radio is from 1960 radio recordings made for Jim Walter Homes. With Bill Napier, Chubby Anthony, Ralph Mayo, and George Shuffler.

---